Automatic Login Link
Have it emailed to you...
---
This event has already happened. Thank you for choosing WhosComing.com to manage your registrations!
---
Fossil whale & dolphin bone, agates
Enjoy a Winter day at the beach! Tajiguas Beach is a few miles north of Refugio Beach in Goleta. We will be hunting whalebone and concretions with petrified wood enclosed in rock, plus agates. Luther Brown is the trip leader. EVERYONE MUST SIGN IN FIRST.
Meeting time is 9:00am at the parking spot on southbound 101. Make a U-turn 2.5 miles past the Refugio exit (will be on the left from fast lane), and park in the first turnout space (.3 mile).
See link to the custom Google map at the bottom of this column for explicit directions.
I will be leading us on this tri-club trip to find fossil whale bone, beach agates, and occasionally petrified wood. Plan to bring a bucket, backpack or other sturdy collecting container,small magnifier,sunblock, a hat, sunglasses, a jacket/windbreaker and a snack or lunch. Weather can be cool or warm this time of year at the beach; dress in layers. Parking is next to the Southbound 101 freeway, so pull as far away from the road as you can. I will have a small VGMS window flag on my silver Explorer. Come sign in first; we'll show you what to look for, and lead a group down to the beach via a trail. Maps are available at the "Take One" table at the January meeting, or by emailing me. It's kind of a tricky spot to find, so you'll need one.
This location is harder to get to when the tide is high. Low tide starts at 7:00 am and starts coming back up around 2:00 pm. We should be out of there by 2:00.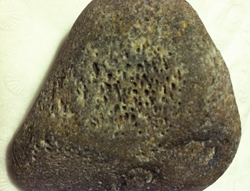 Pick stuff off the beach. You will need: Bucket or collecting bags, hat, sunscreen, water, lunch. Be prepared for hot, cold, wind, sun. Even though it is a beach trip, sturdy shoes will help on the trail down, and it is a rocky beach, so don't rely on sandals alone.
Click to see who else is coming
---
Event location
About 2 miles north of the Refugio Beach exit:
MAP
---
VGMS Main Website